PLA-AF and PLA-N Flanker Variants
Technical Report APA-TR-2012-0401
by Dr Carlo Kopp, AFAIAA, SMIEEE, PEng

April, 2012
Updated May, 2012

Text,
Line Artwork © 2012 Carlo Kopp
PLANAF Su-30MK2 in flight, with the distinctive dual undercarriage nosewheel deployed.


---
---
Introduction
---
The PLA is now operating or developing no less than eight distinct variants or derivatives of the Russian developed Flanker fighter, and in 2012 was reported to be negotiating access to the Su-35S, which constitutes a ninth variant.

This is greater diversity in variants of the Flanker than the diversity of the Russian Federation armed forces which operate the Su-27S Flanker B, Su-27UB Flanker C, Su-27M/Su-35 Flanker E, Su-27MUB/Su-35UB Flanker E, Su-27K/Su-33 Flanker D and in 2012, the Su-35S.

The common perception, reinforced by Russian media disinformation, is that Chinese Flankers are either Russian sourced, or exact clones of Russian variants. This is not correct, as the only Chinese built Flankers identical to Russian aircraft were the 100 licence built J-11A Flanker B aircraft, identical to Russian supplied Su-27SK Flanker B.

While the first indigenous variant, the J-11B, uses the basic Su-27SK Flanker B airframe, it was mostly unique systems, many different from the Russian systems in the Su-27SK.

The dual seat J-11BS is a fusion of the J-11B and Su-27UBK designs. The J-15 is a derivative rather than clone of the Su-27K/Su-33 naval fighter, and shows evidence of common systems fit with the J-11B.

The reported "J-16" is claimed to be a derivative of the J-11BS intended to fill the niche of the Su-30MK2, but with interfaces and fire control capabilities to support indigenous Chinese PGMs. Until high quality imagery showing detail features is available, further analysis can only be speculative.

Designation

J-11A

Su-27UBK

Su-30MKK

Su-30MK2

Su-35S

J-11B/BH

J-11BS/BSH

J-15

"J-16"

Manufacturer

KnAAPO
Shenyang

KnAAPO
KnAAPO

KnAAPO
KnAAPO
Shenyang

Shenyang
Shenyang
Shenyang
Airframe

Su-27S

Su-27UB

Su-30

Su-30
Su-35S

Su-27SK
Su-27UBK
Su-27K

Su-27UBK
Su-30MK2

Service

PLAAF

PLAAF

PLAAF

PLANAF

PLAAF

PLAAF
PLANAF

PLAAF
PLANAF
PLANAF
PLANAF
PLAAF

Crew

1

2

2

2

1

1

2

1

2

Role

OCA/DCA

Trainer
OCA/DCA

Strike
Multirole

Maritime
Strike

OCA/DCA
Strike

OCA/DCA

Trainer
OCA/DCA

Multirole

Strike
Multirole

Engine

Al-31F

Al-31F
Al-31F
Al-31F
Al-41F

WS-10

WS-10

WS-10

WS-10

Radar

N001VE MSA

N001V MSA

N001V MSA

N001V MSA

N0035 PESA

Chinese
MSA

Chinese MSA

Chinese
Unknown

Chinese
Unknown
PGM Capability

No

No

Yes

Yes

Yes

Unknown

Unknown
Yes

Yes

AAR Probe

No

No

Yes

Yes

Yes

No
No
Yes

TBD
IOC

1993

1993

~1998

~2005

TBD

~2008

~2012

TBD

TBD


There is ample evidence at this time to state that Chinese Flankers are a unique family of aircraft, following the pattern observed with Chinese built J-6/A-5 MiG-19 Farmer and J-7 MiG-21 Fishbed variants, where the Chinese manufacturers progressively altered significant portions of the original Russian designs to develop unique and distinct product lines.

From a Western perspective, the important consideration in force structure planning and strategy is that this diverse mix of aircraft must be considered and assessed on the unique merits of each variant, as there are significant differences in weapons, systems, aerodynamic performance and other capabilities between these types.
Much the same will apply for Electronic Warfare planning, as emitter libraries and modes will need to be mapped for both Chinese and Russian developed and maintained Flanker variants and derivatives.


---
Chinese Flanker Systems and Weapons

---
Indigenously developed Chinese Flankers appear to use airframes which are identical to the Russian sourced originals, or the licenced J-11A build of the Su-27SK. The powerplant for the Chinese variants is the WS-10 which is a derivative of the Russian Lyulka/Saturn Al-31F series. The important difference is the use of uniquely Chinese systems hardware, including mission avionics, sensors, electronic warfare, OBOGS, and weapons interfaces.

Full detail has yet to be disclosed, but known Chinese components include:

J-11B/BS: A Chinese IRST set located in the centreline position as with the OLS-27 in early Su-27S.

J-11B/BS: A planar array multimode radar which resembles the Phazotron Zhuk-27 series. It includes an IFF interrogator array.

J-11B/BS: An Onboard Oxygen Generator System (OBOGS). Only the most recent Russian variants have an OBOGS.

J-11B/BS: A unique glass cockpit design, with an asymmetric layout quite different from the Su-30MKK/MK2 and Su-27SMK.

J-11B/BS: An optical MAWS system claimed to operate in the UV band.

J-11B/BS: Dielectric panels on the stabilators not seen on any Russian variant.
WS-10 powerplants.

The Chinese built aircraft have interfaces for unique Chinese weapons, with photographic evidence showing the PL-8 Sino-Python and PL-12 Sino-AMRAAM carried. It is now certain that the multirole Chinese Flankers will be configured and cleared for Chinese built PGMs.
---
---
PLAAF Shenyang J-11A / KnAAPO Su-27SK Flanker B

---
A pair of Su-27SK Flanker B with wingtip Sorbstiya EW pods.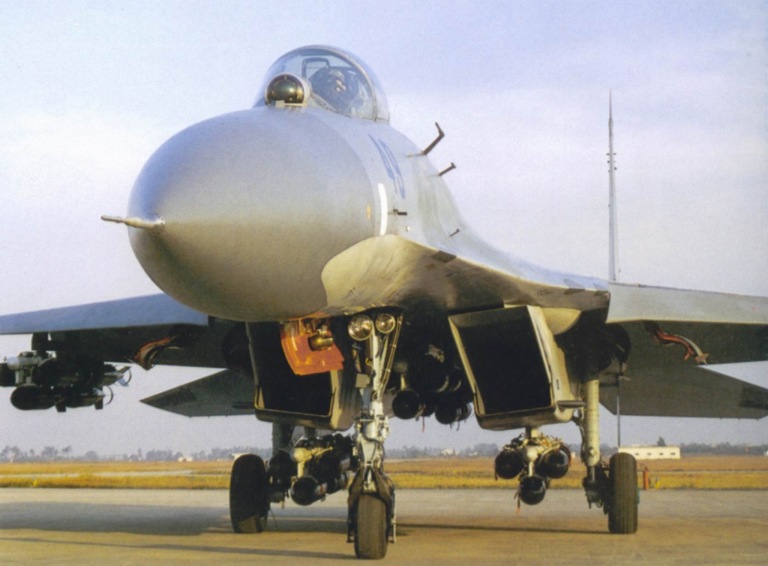 Chinese PLA-AF Su-27SK Flanker B.
---
PLAAF KnAAPO Su-27UBK Flanker C

---
PLAAF Su-27UBK Flanker C dual role trainer.

---
PLAAF KnAAPO Su-30MKK Flanker G

---
Above: operational Su-30MKK with Sorbstiya EW pods on wingtips. Below: Su-30MKK on display in Russia.

Operational Su-30MKK with a pair of Kh-31P Krypton anti-radiation missiles in the foreground (PLAAF).

Su-30MK loadout (Sukhoi).
Above, below: Su-30MKK prototype in Russia (KnAAPO).

---
PLANAF KnAAPO Su-30MK2 Flanker G+

---
While the Su-30MK2 is derived from the Su-30MKK, it differs in two key respects. The first is the higher gross weight and stronger undercarriage, including a dual nosewheel, and the second being the integration of additional anti-ship weapons such as the Kh-59MK. All aircraft displayed to date carry wingtip EW pods, likely the Sorbstiya series, but possibly later SAP-518 series. Depicted aircraft are painted in PLANAF light grey tactical camouflage conceptually similar to the 1980s US Navy FS 36375 / FS 36495 two-tone combination.


---
PLAAF Shenyang J-11B Flanker B+

---
Above, below: new build Shenyang J-11B Flanker B fighters in new PLA-AF two tone high contrast tactical camouflage. The upper aircraft is armed with a PL-8 Python 3 and PL-12 Sino-AMRAAM (courtesy Weimeng).
New build Shenyang J-11B Flanker B fighter. The missile under the wing is a Chinese clone of the Rafael Python 3 heatseeking missile. The J-11B aircraft are typically painted in different tactical camouflage to the J-11A, with a dark/medium blue grey upper surface, light grey lower surface, black radome, while the half ellipse grey area on the nose is overpainted with uniform camouflage. The camouflage compares closely to the 1980s TAC FS 36118 / FS 36270 employed on the F-16 fleet (Chinese internet images).
Optical Missile Approach Warning System apertures on the J-11B.
---
PLANAF Shenyang J-11BH Flanker B+

---
Shenyang J-11BH attributed to the 22nd Fighter Regiment, 8th PLAN Fighter Division, in characteristic PLANAF light grey camouflage (via Chinese Internet).

---
PLAAF Shenyang J-11BS Flanker C+ Prototype

---
Unpainted J-11BS prototype. The aircraft employs features of the J-11B and Su-27UBK. The optical MAWS employed on the J-11B is discernable (via Chinese Internet).

A J-11BS aircraft in light grey camouflage typically employed on PLANAF types (courtesy Weimeng).

---
PLANAF Shenyang J-15 Flanker D
---
A J-15 prototype in flight. The design is a reverse engineered Su-27K based on prototype hardware acquired in the Ukraine circa 2001.

A J-15 prototype in light grey PLANAF camouflage livery, lacking numbers and insignia.

A J-15 prototype in grey camouflage livery, with insignia applied.

---
References
---
РЛСУ "Ирбис-Э" - радар нового поколения - "

Аэрокосмическое обозрение

", №1, 2006, стр.20-22
"Ирбис" готовиться к прыжку - "

Авиасалоны мир

а", №5, 2006, стр.22-25
Владимир Ильин - Рождение АФАР - "

Аэрокосмическое обозрение

", №4, 2005, стр.108-111
С.Д.Бодрунов, Ю.И.Белый, В.А.Таганцев, Ю.И.Зеленюк - «Панда» займет нишу многофункциональных БРЛС на период разработки радиолокационных систем пятого поколения" - "

Мир авионики

", №3, 2003, стр.19-20
Синани А.И., Белый Ю.И. - "Электронное сканирование в системах управления вооружением истребителей"- "Мир авионики", №1, 2002, стр.23-28
Su-35. Multirole Super-Maneuverable Fighter. The Booklet. KNAAPO/Sukhoi brochure (Zipped PDF 16 MB)
Kopp, C., Australian Aviation - August 2004 - The Sleeping Giant Awakens (PLA-AF/PLA-N)
Kopp, C., Australian Aviation - July 2004 - Asia's Advanced Precision Guided Munitions
Kopp, C., Defence Today - January/February 2006 - Regional Precision Guided Munitions Survey
Kopp, C., Defence Today - Sept 2004 - 2010+ Regional Futures
Kopp, C., Defence Today - January/February 2006 - Regional Developments 2005
Imagery Sources: Xinhua; MilitaryPhotos.net; other Internet sources.
---
---
Technical Report APA-TR-
2012-0401
---